A survivor of teen dating violence, sexual assault, stalking and domestic violence, I share my personal account in the community to give others first-hand knowledge about the obstacles and decisions that victim/survivors face in finding safety for themselves and their children. Through my narrative (titled "Where Has Our Kathy Gone"), I lay bare my experiences, encouraging audience participation in a follow-up Q&A session, to promote supportive and empowering responses from community members who encounter primary and secondary victim/survivors of family violence. Additional tools help participants understand the batterer's mindset, and the complexities of the impact of domestic abuse on the entire family. Each presentation is tailored to the purpose and interests of the participants; this is a unique opportunity to hear directly from an adult victim/survivor about decision-making processes, protective and coping efforts, and helpful responses for safety.
In addition to my personal experience, I have also advocated on behalf of survivors of domestic abuse since July 1998, including 12+ years as a liaison with local child protection offices, giving me a kaleidoscope of experiences which enhances my training knowledge. From policy writing and statistics, to training and program development, but most importantly, fighting for the rights of battered parents and their children through legal and social service advocacy, I have witnessed the power of outside-the-box advocacy to create positive outcomes for families impacted by perpetrators of family violence.
My work (particularly the "Maze of Coercive Control") has been featured in other blogs, newsletters and publications:
Colorado DHS Domestic Violence Practice Guide for Child Protection Services
Emily Stein, YWCA Boston, October 2015 Newsletter (article link not available)
For EMERGENCY CONSULTATION, or to request an appointment, call or text at 978.378.0611.
For inquiries or email communications: help@dvsur5r.com Mail can be sent to: DVSur5r, PO Box 604, Plaistow, NH 03865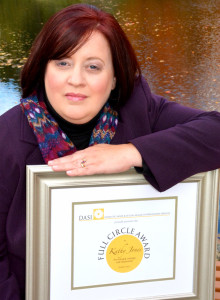 Kathy Jones, Survivor and Justice Advocate